Larnaca
A stepping stone to the world
Larnaca, the island main airport town and the secondary port, is known for its links with the past as well as with the modern world! In the heart of modern Larnaka you will find the remains of the ancient city-kingdom of Kition, reminiscent of glorious days.
The Mycenaean Greeks fortified the town with cyclopean walls in the 12th century, while the Phoenicians founded a powerful kingdom here in the 9th century. Kition is the birthplace of the philosopher Zenon, founder of the Stoic School, and it is here that Saint Lazarus was resurrected in the 18th century Kition became a commercial centre and the seat of the European consulates Today Larnacas landmarks include the delightful palm trees promenade, the fort, and the old quarters. The salt lake near the airport is an environmental jewel, as a favourite stopover for thousands if migrant birds in winter. Tekke, an important Muslim pilgrimage site in a tranquil setting overlooks the lake.
Click here to see historical places in Larnaca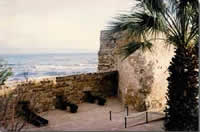 Larnaca Castle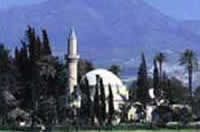 Tekke Larnaca